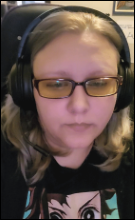 Here's an introduction! I'm pirate moo and I own this blog, where I post write-ups on various CTF's, HTB and THM in my spare time.
I have an Associate degree of Applied Science, in Information Technology, as a Network Specialist, but work as a penetration tester/offensive security consultant.
I enjoy reading/learning about various flaws/bugs, have volunteered at Defcon, HOPE, TDI and Hacking Diversity; along with winning a WISP (Women in Security & Privacy) scholarship a few years back.
I have been messing with computers since I was about 12 years old, have a dog named Spot who I like to spam pictures of and enjoy shit posting every once in a while for good humor and fun.
Reach me on :)  Mastodon